Day 7: Wine tour / Rest day
in Uncategorized
After travelling 337KM, it was time for a rest day. Since my B&B was located high above Kelowna, and I wanted a day without bike riding my only option to explore the area was a tour. My B&B recommended a couple wine tours that would pickup at my location. The only tour available was an all day wine tour, I wasn't quite sure if doing a full day tour would be worth it but I decided to go for it.At 9AM the tour picked up at my B&B, and it turned out there was only one other British couple on the tour. I got along well with the tour guide and the Brits, so it made for a fun day touring around tasting wine.
By chance it turned out my tour guide had met Ian, one of the main characters out of the movie Somm – a movie about people trying to obtain their Master Sommelier designation. If you're interested in wine, the movie is well worth watching and I'm told it's available on Netflix.
We ended up going to around 6 wineries, the ones I can remember are:
Blasted Church
Sumac Ridge
Stoneboat
Rustico Cellars
Because I am still riding to Vancouver, I couldn't really by much in the way of wine. Despite that, I did get 2 unique half bottles of wine:
One is a wine hot sauce, made of Cabernet Franc that has a hot pepper in the bottle. It's a nice mix of sweet and spicy – I've never seen something quite like it at a winery so I had to buy it. Stoneboat had excellent icewine that I couldn't resist purchasing – it was one of the guides recommended suppliers of icewine in the region.
While in the south Okanagan near Oliver, we spotted a forest fire burning: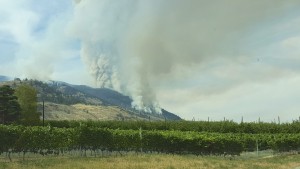 After an enjoyable tour, it was back to the B&B for dinner.